IT Support Services in Birmingham
Is Your Business Making the Most of Today's Technology?
Technology is advancing at an unprecedented rate. Whatever your business, however big or small, there comes a time when you need to move forward. More than ever, business owners are expected to keep up with growth and the need for transformation to deliver on employee and customer demands.
Does your business demand that your IT Systems and data are fully supported and available 24/7/365?
Does your team have the ability to support the breadth of technologies that your business relies on around the clock?
Managing your infrastructure is an important part of IT operations but as a busy team you have to strike the right balance between supporting business as usual and delivering innovative new services.
We are a Managed IT Services company with more than 35 years of experience delivering fully managed IT environments to organisations – businesses, schools, charities, local government – who rely on our expertise to deliver intelligent voice, data, network, security and Cloud solutions that drastically improve the efficiency of their IT operations.
Our fully-managed IT services suite is designed to provide Birmingham businesses 24/7 peace of mind, freeing you to focus on driving your business forward. We monitor the health of your system, apply necessary security patches and update virus signatures to help keep your data safe from viruses, malware and ransomware.   We also ensure backups are performing successfully and can put a disaster recovery plan into place – and much more. We'll catch (and fix) the little problems before they become big ones – more often than not, before you're even aware that there's been an issue.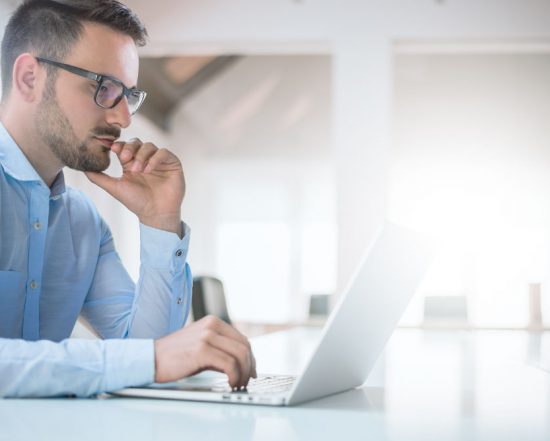 Specialist IT Services in Birmingham
Our locally-based team is here to help with all your IT support needs. We offer both remote and on-site support for desktops, servers, network equipment, regular maintenance of all systems, scheduled site visits and full management of IT projects. Our range of services include IT Support, Cloud Services, Disaster Recovery / Backup, IT Security and LAN & WAN.
Preventive and Pro-active
Try to imagine a world where your IT systems are all running smoothly. Where regular preventative maintenance and pro-active diagnosis of your network means you're never waiting for an engineer to arrive. Where your employees can access the technology they need to drive your business forward, when and where they want to.
What You Get from Syscomm
Full 24/7/365 support and maintenance of all or part of your IT infrastructure platform
Out-of-hours patching and back-up to help reduce risks such as security breaches or downtime
Access to the Syscomm self-service portal for logging incidents or requests and accessing service reports
Proactive analysis of capacity and usage to help plan and size your environment before you have an issue
Add scale and flexibility to your business
Fixed monthly charges to agreed SLAs
Trusted advisor, partner & provider for more than 35 years
Experience a new reality with Syscomm as your Managed IT Services partner.
Call us today on 0247 771 2000
Why Syscomm are the Leading IT Company Birmingham
As a local business based in the West Midlands, we act as an extension of your business, making it our job to stay abreast of the latest technology trends, so you don't have to. We use both our knowledge of the industry and our experience of working in multiple business verticals to guide and advise on the best solutions for your business. We understand that when it comes to business IT, there is no one size fits all model.
We are your local IT Solutions provider.  With over 35 years' experience, Syscomm has been providing expert Managed IT services to support small and mid-sized businesses across Birmingham and the West Midlands for decades. From start-ups to established businesses, we have the right solutions for your business technology needs, today and for the future.
Industry Leading Experts
We work with world leading software and hardware partners to provide reliable, fully managed IT solutions for businesses looking to improve their IT infrastructure.
It is vital that, as your business grows, so too does the infrastructure you need to support and run your  business.  Whatever the size of your business, Syscomm will work with you to build a truly tailored solution.
Whether you're looking for financial savings, service quality improvements, cover for skill gaps or innovative network solutions, we are confident that we can exceed your expectations.
Trusted Business IT Support in Birmingham
At Syscomm, we fully understand the importance that IT plays in your business and we recognise that you have unique requirements. As such, we have flexible IT support packages that are customisable to the individual needs of your business.
We have years of technical experience and see ourselves as your IT department or an extension of your internal team. Our business is built on trust and integrity and our success is centred around our clients. We ensure that the technology underpinning your business is always working, enabling your business to be more dynamic and competitive.
Flexible & Tailor-made IT support
Most small and mid-sized organisations don't need full-time in-house IT staff; however, they do expect their systems to run smoothly. That's why we offer flexible tailor-made IT support packages, from regular on-site visits to remote assistance and monitoring solutions. With our managed support services, we ensure your business has all the support your business demands. We aren't satisfied simply by fixing a problem – we partner and work alongside our clients to advise and help them plan for future.
To understand more about how we could help your business, please speak to one of our team by calling us on 0247 771 2000, emailing us via [email protected] or arrange a suitable time for us to call you, by filling out the following form.
Have a question? We're always happy to chat through our solutions

Click here