Ultrafast G.fast Packages
G.fast is transforming the UK's broadband landscape. It is just beginning to be rolled out across the UK, making it possible for businesses to receive download speeds of more than 300Mbps using existing copper phone lines, at a cost similar to existing slower fibre broadband products.
It is affordable, quick and easy to install and delivers download speeds of up to 330Mbps.  Syscomm is one of only a few ISPs who are currently offering G.fast to businesses in the UK.  If you are struggling with slow download and upload speeds, talk to us today!
Why Get G.fast?
G.fast is a cost-effective way to increase your speed without having to make a costly investment in getting fibre to your business with FTTP or a leased line.  If your business is looking to improve both download and upload speeds while maintaining low overhead costs of business broadband, G.fast is an excellent option for you to explore.
Can I Get G.fast?
The team here at Syscomm are happy to assist you with getting the fastest connection available!  Call us on 0247 771 2000 and talk to one of our expert technicians to see if you can benefit from these ultrafast broadband speeds, helping your business stay at the top of its game.
G.fast Broadband at Amazing Prices!
High-speed connectivity is an essential component of today's commercial landscape; G.fast broadband could be the solution you've been looking for.
Call us today – our team of experts is here to listen and help.   0247 771 2000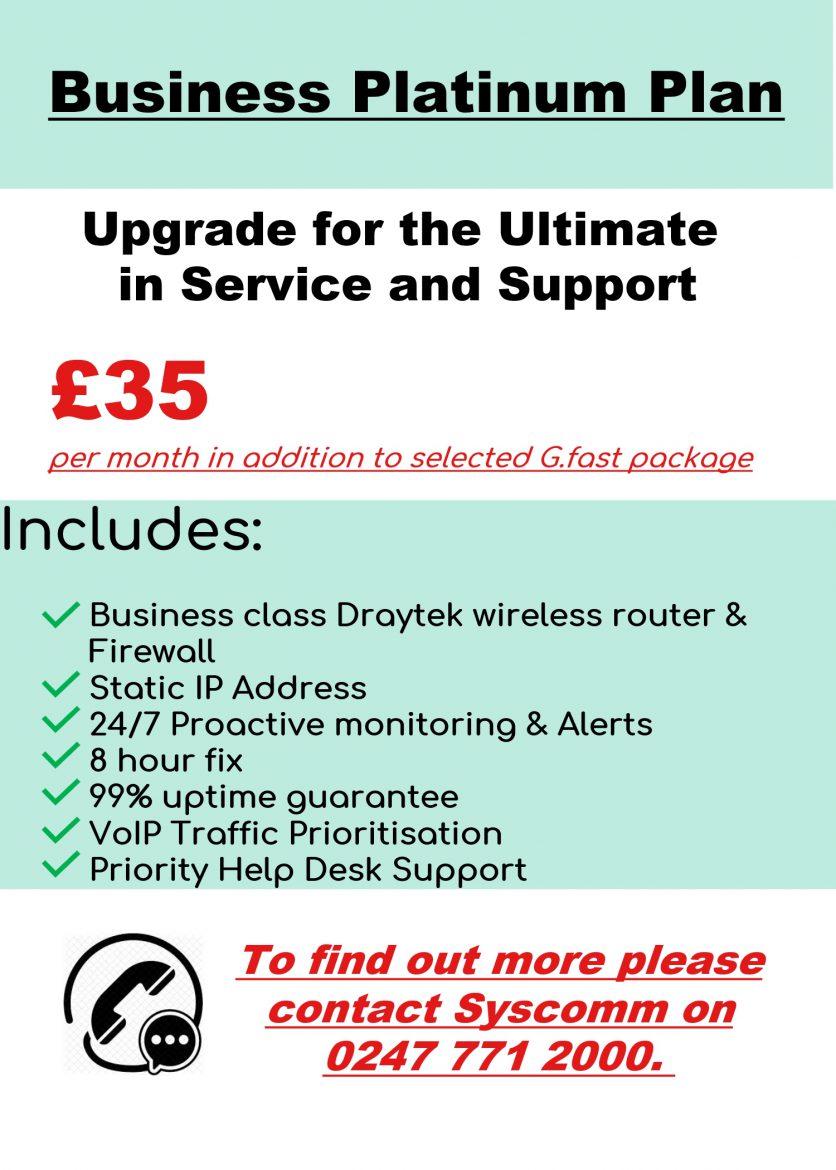 G.fast 150
£43 / month
+ £50 installation fee
Up to
150Mbps
Download speeds
Up to
28Mbps
Upload speeds
Includes
Unlimited Data
Free Router
24 Month Contract
UK-Based Support
Options
Static IP Addresses
24/7 Proactive monitoring & Alerts
VoIP  & Business Traffic Prioritisation
4G Instant-on Backup
All prices exclude VAT
G.fast 300
​£50 / month
+ £50 Installation fee
Up to
330Mbps
Download speeds
Up to
47Mbps
Upload speeds
Includes
Unlimited Data
Free Router
24 Month Contract
UK-Based Support
Options
Static IP Addresses
24/7 Proactive monitoring & Alerts
VoIP & Business Traffic Prioritisation
4G Instant-on Backup
All prices exclude VAT
Have a question? We're always happy to chat through our solutions